Aysu Cöğür (Live)
March 19, 2017 @ 9:30 pm

-

12:00 am

Donation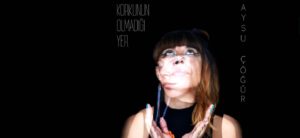 Etno soul / Experimental
Aysu is a singer/songwriter from Melbourne/Australia. Her sound is somewhere between Ethnic-Soul-Fusion which she like to call EthNeoSoul. Her second single 'Korkunun Olmadığı Yer' (Where the fear doesn't exist) was released in Fall, 2016. She is currently residing in Istanbul where she performs Solo accompanied by her Loop station (Aeon Flux) and Guitar (Joni).
Aysu has always searched for ways to link a wide range of musical genres through understanding of both her Eastern and Western heritages. After extensively performing in Melbourne and touring around Australia with several different projects, she decided to bring her own compositions out into the light. This would be the beginning of a musical endeavor that would highlight her diverse musical passions allowing her to work with such greats as 'The Gotan Project' and Producer Smadj from 'Duoud'. She has also made guest appearances with; DJ Solal (from The Gotan Project/FRANCE), Cirque Du Soleil Band (CANADA) and Omer Faruk Tekbilek (TURKEY).
In 2015, she formed her new project 'Experimistän' and so Aysu went back to her experimental roots and decided to fuse soul, funk and eastern sounds. The members of the band decided to call this style 'EthNeoSoul' in which Aysu continued to deliver High-energy performances only this time SOLO accompanied by her loop pedal show casing her own compositions in Istanbul and around Turkey extensively. She also performed in Spain, Italy and Canada and continues to do so now.
https://youtu.be/IyMskt-H6hs
https://youtu.be/gc9vF8SmTxI