Concert: Sandhya Sanjana
June 27, 2014 @ 6:00 pm

-

3:00 am

Donation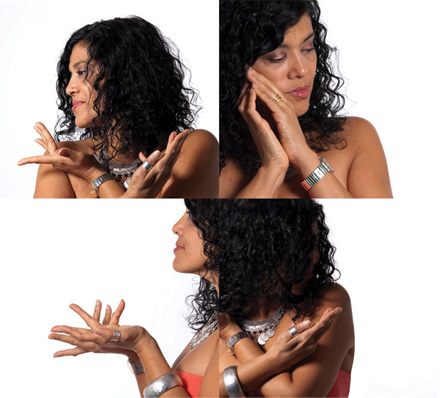 Sandhya Sanjana is an Indian vocalist who integrates Indian classical vocals with jazz and world music.
Sandhya was classically trained in India under various gurus. Later she discovered jazz and world music and started fusing all these styles with Indian classical vocals.
After moving to Europe, she embarked on a solo career. She has composed, recorded and performed her music embracing many styles. Living in Amsterdam and London, she is also a member of several world music bands. In the last years, she has toured and performed extensively all over the world.
Her great joy in interacting with musicians from all over the world has been made possible by collaborations with various artistes who combine her Indian vocals with modern music styles, including trance, dance, jazz and world fusion. Sandhya finds it a real challenge to give listeners around the world music which enables the spread of Indian music in its myriad forms.
She has recently recorded her solo album, Random Access Melody. She invited fourteen of her favourite musicians from all over the world to participate. Some came to the studio, others sent their contribution by file sharing. The album has received excellent reviews.
For a glimpse into Sandhya's background, projects and musical performances, please follow the links above.
Bar Open at 18hrs
Dinner at 19hrs
Concert Starts at 22hrs