Guajiro Calentano + Bamoné
June 23, 2017 @ 9:00 pm

-

2:30 am

Donation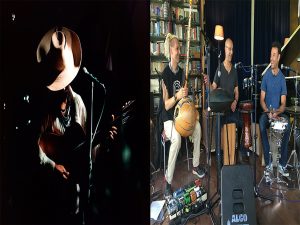 Live music show from Mexico with Guajiro Calentano.
We are a mexican ensemble borned in 2012 motivated by spread and merge folk music from the pacific side in Mexico: Son Calentano (Guerrero/Michoacán) & Chilena (Guerrero & Oaxaca) and caribbean rhythms.
The "son calentano" or "son from the hot lands" is noted for being a merge of rhythms who come from south america, south of europe and african overtones.
This folk music is daily present in mexican festivities and celebrations. The interpretation of our music is specially noted to incorporate and fuse antiques afro mexican and indigenous sounds from a traditional drum known as tamborita.
Guajiro Calentano's ensemble share their proposal moved by generate fraternal ways of meeting and bond with the audience.
————————–————————–——-
Bamoné stands for Brazil, Marokko and Netherlands. The trio plays their own compositions in the style worldmusic, mixing Brazilian, african and european rhythms and sounds to create their own unique voice. The combination of N'goni, Berimbau, Hang, & other Percussion creates Soundscapes that are Positive & Groovie
Concert start 21hrs