Guzanghida concert at De Peper
January 20, 2017 @ 10:30 pm

-

2:30 am

Donation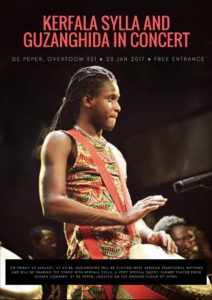 West African Percussions and Dance
Dear Friends and yet-to-be Friends: come, listen and dance to the djembe and many more drums from West Africa!!!
On Friday 20 January, at 22:30, Guzanghida will be playing West African traditional rhythms and will be sharing the stage with Kerfala Sylla, a very special guest, djembe player from Guinea Conakry. He has been one of our teachers and we want to pay him tribute!!! Where? At de Peper, located on the ground floor of OT301.
We start playing at 22:30 hrs!!! The event is free, donations are warmly welcome!!! And bring your dancing apparel:
#Weregonnamakeyoudance
.
*******WHO IS KERFALLA SYLLA?*******
Kerfala Sylla is a great djembefola of young generation and recognised artist of contemporary djembe musi
c.
He comes from the capital of Guinea Conakry, where he learned the djembe with big master Koungbanan Condé. He played as soloist in the group Balandougou-kan of Mamady Keita, in the Ballet Bagatae of Moustapha Bangoura and first soloist in the Ballet Foniké of Seny Bangoura. He participated in Bolokada Conde's CD and in DVD of Mamady Keita (2008).
He taught numerous African, European and American pupils.
Before coming to Europe, he was one of soloists and composer-arranger of the group Sabougnouma (with Babara Bangoura).

*******ABOUT PLAYING DJEMBE IN GUINEA CONAKRY*******
Watch: Dununba Fo – A Conversa Dos Tambores (with subtitles)
– an excellent introduction to drum culture in Guinea, featuring footage in Sangbarala (countryside) and Conakry (the capital) https://youtu.be/US_Q55dhYMs

********WHAT IS A 'DJEMBEFOLA'?********
Fola means the person who lets the instrument speak. So not only the 'player' of an instrument, but a lot more. So a djembéfola is somebody who talks through his djembé.

And for those who want to learn more about the Mandinka culture in post-independence Guinea, let's start with:

********A POEM BY FODEBA KEITA!********
Performed by the Bembeya Jazz National in 1969 https://youtu.be/5Upyaw59XV0 (great tune to play before coming to see us on Friday, it will make you start dancing)

"Minuit ! Pour le coeur sensible qui écoute et qui comprend, tout chante minuit.
Minuit ! C'est la chanson naïve et monotone de la berceuse qui endort son enfant.
Minuit ! C'est la complainte de l'amant qui, dans le calme de la nuit,
implore les grâces de la belle.
Minuit ! C'est le chant mélancolique de l'oiseau dans le feuillage, la plainte désespéréé du féticheur aux abois sur la rigueur des dieux, le tonnerre qui gronde dans le lointain.
Minuit ! C'est tout ce qui pleure, c'est tout ce qui gémit, car Minuit c' est aussi la tragédie du vieux Manding."