Jazz Funk Konnection (Live)
October 21, 2016 @ 10:00 pm
Donation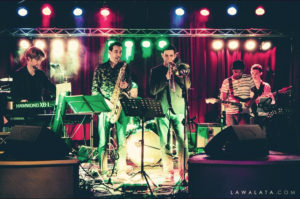 Groovy Jazz Fusion
Jazz Funk Konnection is a groovy band with influences like The Brecker Brothers, Roy Hargrove, The Crusaders, Steps Ahead, Grover Washington, Fela Kuti, Jamiroquai and all the Jazz music.
Formed in December 2014, The Jazz Funk Konnection was built by french saxophonist ilia Lumbroso who is writing all the music for the band, and by dutch drummer Lars Van Der Weiden, who brought two great musicians to start the project, Sergio Leeflang on bass, and Jahja Telussa on Guitar. Very quickly, Niels Van Der Weiden joined the band on keyboard, and more recently, Matthias Konrad on trombone also joined the horn section.
They have played in the Netherland in such places as Patronaat café in Haarlem, De Pletterij, Amsterdam CCMuziekcafé, Middleburg Schuttershof café, Grote Bavo Haarlem, and private parties.
They are also recording a studio album with most of the tunes they play in concerts that will be available in 2017.
The concept of the band is to gather the jazz and improvisation with all kind of other music, such as funk, reggae, salsa, disco, blues, afro beat. With groovy bass lines and spicy melodies, every tune is made to dance but also the many solos allow each musicians to create different atmospheres in each concerts and makes them unique every time.