Queeristan Festival 2014
April 5, 2014 @ 5:00 pm

-

3:00 am

Donation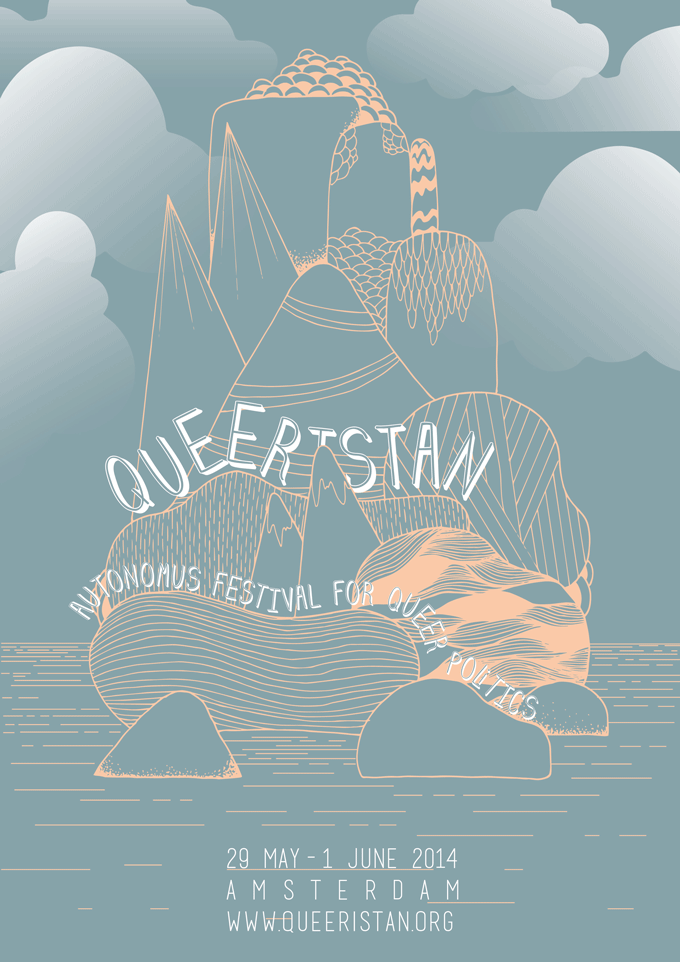 QUEERISTAN 2014 CALL OUT
(Dutch language see below)
The Amsterdam Autonomous Queer Festival also known as Queeristan is ready for a new year! From May 29 until June 1 2014, Amsterdam will open its doors for a weekend of fabulous queer, trans, feminist politics. The festival is committed to and created by the communities in which we move, love, live and breathe.
Enough of mainstream gay and lesbian politics! Let's create radical spaces that are trans and queer positive and are welcoming to differently abled bodies and beings. Spaces to think about transformative justice and decolonial projects; Gender non-conforming childhoods; Pro-migration and anti-border struggles; Anti-racist practice and thought; Precarity; Sex work; Postporn and eroticism; And everything in-between and inside-out.
With the support of the city's squatter movement we will build an open, free-access laboratory for queer, trans, feminist liberation. The festival will take place in a new location that is wheelchair accessible and has running water!
You have a workshop you always wanted to create? Fantastic queer, trans, feminist artworks and videos? A hot, intense, political, sexy and/or emotional performance? Smooth lyrics and a sweet sound? Please submit your proposal by March 30 to queeristan@gmail.com
We are already looking forward to reading your proposals of dissent, pleasure and resistance,
Proposal guidelines:
Let us know a bit about you and what you want to do.
What medium is it? (e.g. performance, installation, workshop, band?)
Any special equipment, space, or other needs? (e.g. a projector, microphone, pillows, brave participants, translators, etc)
Estimated time required (min and max).
Coming from out of town, need housing? We need to know this far in advance.
Keep in mind that the festival is a vegan space (for workshops, performances, and artworks please find substitutes for non-vegan products like feathered boas, dairy products, honey, etc). Also we respect the Palestinian call for Boycott, Divestment, Sanctions and therefore swear by hummus (and other products) that does not come from illegal Israeli settlements.
Optional: Include a relevant image if you have it (we love visuals!)
Under 500 words, please 🙂
Queeristan is an autonomous, DIY and DIT (do it together) festival, based on voluntary work and is completely dependent on donations. We cannot offer any compensation for performance or workshop logistics. However, we might be able to make a symbolic contribute towards your travel costs.
(Nederlands)
Het Autonome Queer Festival, ook wel bekend als Queeristan is klaar voor een nieuw jaar. Van 29 mei tot en met 1 juni 2014 opent Amsterdam haar deuren voor een weekend van queer, trans, feministische politiek. Het festival is gericht of het creëren van plekken waarin we kunnen bewegen, liefhebben, leven en ademen.
Genoeg van mainstream homopolitiek?! Laten we radicale plekken doen ontstaan die trans en queer positief zijn en uitnodigend zijn voor verschillende lichamen en manieren van zijn. Plekken om te praten en denken over transformerende gerechtigheid en dekoloniale projecten; gender non-conformistische jeugd en kindertijd; pro-migratie en grenzenloosheid; antiracistische praktijk en gedachtegoed; precariteit; seks werk; postpornografie en erotiek; en alles hiertussen in en daarbuiten.
Met steun van de Amsterdamse krakersbeweging bouwen wij een open en vrij laboratorium voor queer, trans, feministische bevrijding. Het festival vindt plaats op een nieuwe locatie die grotendeels rolstoeltoegankelijk is en voorzien is van stromend water!
Heb je een workshop die je altijd al wilde geven? Inspirerende kunstwerken of video's? Hete, intense, politieke, sexy en of andere performances? Zwoele lyrics en een te gekke sound? Stuur nu je voorstel in voor 30 maart naar queeristan@gmail.com
We kijken uit naar jullie voorstellen voor verzet, genot en dwarsheid.
Richtlijnen voor voorstellen:
– Vertel iets over jezelf en wat je wilt doen
– Wat is het medium? (film, workshop, installatie, band, performance)
– Is er speciale apparatuur nodig of een speciale ruimte? (beamer, microfoons, kussens, dappere deelnemers, vertalers, etc.)
– Hoe lang duurt de workshop ongeveer?
– Kom je van buiten de stad en heb je een slaapplek nodig, laat ons dit ver van tevoren weten
– Stuur ons ook een passende foto of beeld op die we kunnen gebruiken ter promotie van de workshop
– Niet meer dan 500 worden a.u.b.!
Vergeet niet dat Queeristan een veganistisch festival is (voor workshops, performances, kunstwerken vragen we of je substituten kunt gebruiken voor non-vegan producten, zoals verenboa's, melk, honing, slagroom, etc). Ook respecteren we de Palestijnse maatschappelijke oproep tot Boycot, Desinvestering en Sancties van Israël (dus geen Israëlische (nederzettingen) producten, zoals Albert Heijns' Sabra Hummus of Vital producten.
Queeristan is een autonoom, DIY en DIT (do it together) festival, gebaseerd op vrijwillige inzet en is compleet afhankelijk van donaties. We kunnen hierdoor helaas geen financiële compensatie bieden voor een workshop of performance. Maar misschien kunnen we, als financiën het toelaten, een symbolische compensatie bieden voor reiskosten voor mensen die van ver moeten komen.