Raising The Dead Presents:
January 27, 2017 @ 9:00 pm

-

3:00 am

Donation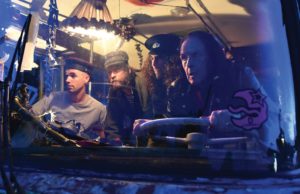 Eclectic Garage/Grunge/Songwriter rock/Soul
– Grandpa Death Experience
– The Irrational Library
– Girls In Search Of A Name
– DJ Dead Bob
Grandpa Death Experience – Eclectic Garage/Grunge/Songwriter rock, Lenoard Cohen meets Lemmy Kilmister –
Amsterdam-based band Grandpa Death Experience. The band itself is the vehicle for Canadian-born singer, guitarist, songwriter and producer Ron Goudie. Goudie's story in rock'n'roll began in the late 1970's in Southern California as a member of seminal hardcore band Modern Warfare. The band's own imprint Bemisbrain Records served as the springboard for Goudie's career in music which saw him become one of the founders of Enigma Records, a transformative label in the American music business. Along the way he signed and produced Stryper (the first mainstream Christian metal band) and signed, produced, engineered or mixed everyone from Poison, Agent Orange, T.S.O.L., GWAR, Flaming Lips and Death Angel to Mojo Nixon & The Skid Roper, in addition to holding executive positions at various labels.
https://www.facebook.com/pg/Grandpa-Death-Experience-207395479276692/about/?tab=page_info
http://www.saustex.com/GRANDPA-DEATH-EXPERIENCE.html
DJ Dead Bob – Awakened deep in the rumbling jungles of Central Africa, raised in the rhythm & bluesy swamps of the South, grown up to the infectious beats of Kingston, and enraged by the raunchy punk of the North: Dead Bob beats the drums of your soul.
https://www.facebook.com/pg/DJDeadBob/about/?ref=page_internal.

The Irrational Library – The Netherlands prized position, The Irrational Library is a new project crossing the streams of spoken word poetry and get down boogie for your brain rock n roll music. Based around the spoken word poetry of expat American/born again Haarlemmer Joshua Baumgarten and the musical production of the multi-talent musician/producer Mishal Zeera. Rounding out the band is the drumming excellence of Lars van der Weiden (Spoon Lifts Moon) and switching between baritone sax and guitar slinging is Tom de Haan (Haarlemtown's very own Stads Dominee). JB & The Irrational Library is the party protest band for modern times. A spiritual uplift to put a sway in your hips and take you along a real fine mental trip.
https://www.facebook.com/pg/TheIrrationalLibraryband/about/?ref=page_internal
https://theirrationallibrary.bandcamp.com/
Girls In Search Of A Name – A lovely new on the scene Hindustani sister duo act playing a precious folk meets Beatles psychedelic style. If fine porcelain made music, it would sound like The Girls
https://www.facebook.com/pg/Jung-music-162563637125261/about/?ref=page_internal