Rebet guitar+S
January 17, 2017 @ 9:30 pm

-

12:30 am

Donation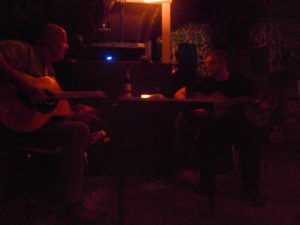 Rebetiko, the music crossroad between middle east and west from the early 1900's. Songs about love, joy and sorrow. A musical sub-culture, a music of the lower classes.
"The womb of rebetiko was the jail and the hash den. It was there that the early ᾽rebetes᾽ created their songs. They sang in quiet, harsh voices, unforced, one after the other, each singer adding a verse which often bore no relation to the previous verse, and a song often went on for hours. There was no refrain, and the melody was simple and easy." Ilias Petropoulos.
'Rebet guitarS', a guitar duet, will present the music of the legendary "Kostis", the most enigmatic of all greek rebetika artists. 12+1 songs of truly unique guitar duets and black-humor lyrics chronicling the hash dens, prison culture and pickpockets of old Athens. Recorded in 1930-31 on 78 rpm records, under a pseudonym for export to the greeks living in America, research has uncovered the musician, journalist and cartoonist Kostas Bezos as the figure lurking behind the Kostis name, with ties to the famous singer and producer Tetos Demetriades.
https://vimeo.com/147486766