Reborujo Party!!!
May 10, 2014 @ 9:00 pm

-

3:00 am

€3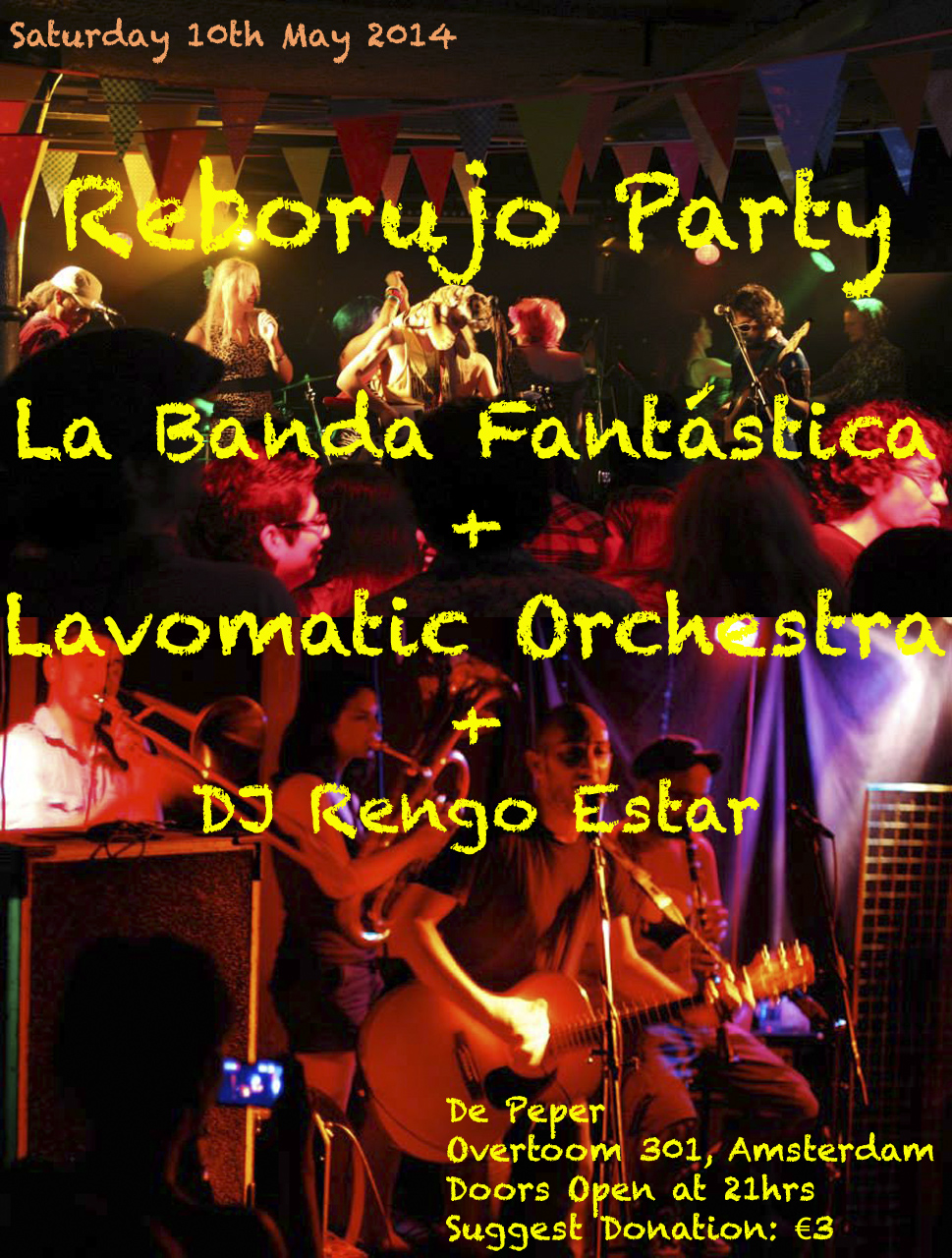 Evening full of music and dance with a lot of fusions.
Lavomatic Orchestra
Who dat?
The Lavomatic Orchestra is a 6-piece band (guitar-vocals / clarinet-vocals / ukulele / percussions-tuba / trombone / drums), that got together to enjoy themselves, play music, and make the colours of life shine brighter. As their name suggests, they started playing in laundromats,  between the white cycle and the colours, and then eventually overflowed and foamed all over the Parisian bars and stages.

Say what ?
Their repertoire is a mix of original compositions and covers from various countries and continents. They take their inspiration from all over the globe, although preferably the sunny places. Their original compositions tell us stories about love and other things, often mixing languages, rhythms, political-awareness, futile fantasies, love and hate, girls and boys… Stand by your shorts and hold on to your chaussettes  –  as their imagination knows no bounds!

https://soundcloud.com/lavomaticOrchestra
Banda Fantástica
The band enjoys playing many different sub-genres of cumbia, from Chicha to
Cumbia Villera and also classic cumbia tracks from Colombia and Mexico. At
the moment they are finishing their first EP 'HUMO Y CUMBIA' which will
feature original tracks as well as covers from Britney Speras, Black Sabbath
and Policarpo Calle.
Together with 'Las Fantásticas' (beautiful dancers from across the globe) they
give a unique cumbia show that is guaranteed to make everybody dance until
the very last note is played.
https://www.youtube.com/watch?v=PFsS__BMTK8
http://vimeo.com/60899412
Doors Open at 21 hrs
Concert Start at 22.30 hrs
Suggest Donation: €3