Sandhya Sanjana + Ma Faiza
June 16, 2017 @ 9:30 pm

-

2:30 am

Donation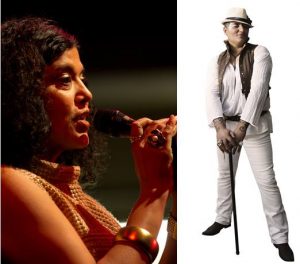 Jazz/Funk/Electronic Music
Jorge Fernandes – Guitar
Lea abdulhak – Bass
David de Vries – Drums
Ma Faiza – DJ

Sandhya Sanjana (born in Bombay, India) lives in Amsterdam and sings her own blend of Indian classical, jazz and funk. She has composed and recorded several albums of her own and also been featured on many other albums. She is constantly looking to expand her musical horizons by collaborating with musicians who bring a new and interesting flavor/colour to the palette. Apart from singing with regular formations, she really loves to sing live with her various DJ friends.
First half: Sandhya has invited her friends/musician colleagues to play a live set. Jorge Fernandes on guitar, Lea abdulhak on bass and David de Vries on drums.
Second half: she is honoured to sing for the first time with her friend Ma Faiza from India, who is a legendary DJ in her own right. Together, they will set the dance floor ablaze with their music and vocals…
Ma Faiza is fiercely passionate about Electronic Music. With nearly two decades under her belt devoted to the development of the Indian Electronic Music scene, she continues to blur the lines by refusing to be limited by style or tempo. Her varied, feminine sound encompasses many different genres of EDM, from full-on melodic psy-trance, progressive daytime grooves, dirty electro, cool minimal to also ethnic, organic and harmonic global inspired beats and blissfully enticing chillout sets. The common factor is she plays fun, sexy, uplifting and positive music that just makes you smile and feel good.