SOTU Festival 2014
April 19, 2014 @ 3:00 pm

-

3:00 am

8eur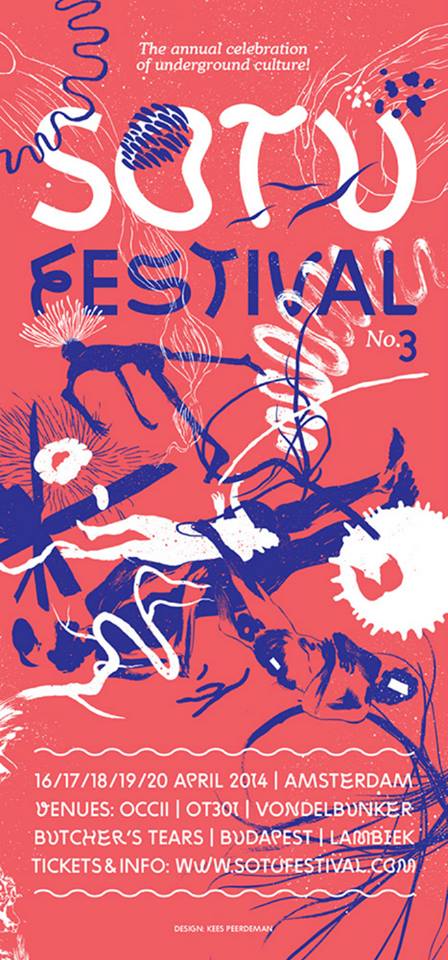 15:00 Noise Performance
21:00 Chillin "4TET
22:00 Impro Jam, Come and play!
03:00 End

SOTU (Sounds of the Underground) is an annual music festival taking place in the 'Oud West' (old west) district of Amsterdam. The first two editions took place in May 2012 and May 2013 and were an overwhelming success. Like the first two editions, there are busy day and night programs planned across various underground music venues – located close to the city's prestigious Vondelpark. The three main locations at the core of the festival are: OT301 (Overtoom 301), OCCII (Amstelveenseweg 134) and the Vondelbunker (Vondelpark 8). Other smaller spots, such as, Budapest (WG-terrein) and De Peper (an independent vegan cafe inside OT301) also play host to related events.
The festival programming includes noise, improv jazz, psychedelia, indie-pop, avant-garde, experimental electronica and a wide range of underground dance music genres. There is an emphasis on local acts, as well touring bands and sound artists. Last years roster of acts was characterized by its programming of predominantly young experimental artists both, new and established. (in total of 93 acts)
Once again, SOTU is working with collectives/organizations who join forces to program the festival together. For example Zone5300, Network Awesome, Radio Patapoe and the following mediapartners: Gonzo (Circus), Indie Indie, Red Light Radio, WWW.DFM.NU (Int. Radio).
SOTU aims to ensure quality every year by working with curators, collectives and organizations whom have proven themselves as genuine contributors to the local scene. It is important that this festival reflects the knowledgable and hard working underground culture that exists in the Netherlands and abroad. SOTU's fundamentally do-it-yourself approach invites the organizations to join creative forces, form a collective and make this festival happen.