UsedToBeNew invites // Eran Har Even Trio
March 6, 2018 @ 8:30 pm

-

12:30 am

Donation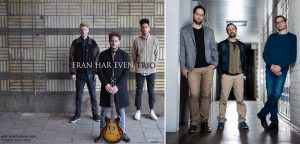 UsedToBeNew invites // is a series of events that takes place twice a month in collaboration with the non-profit culture kitchen de Peper.
Each time, UsedToBeNew presents you another great band with outstanding musicians.
This time we invite the Eran Har Even Trio.
Eran Har Even (born on April 22nd, 1983) is an Israeli guitarist, composer and music teacher currently residing in Amsterdam. Since his arrival in the Netherlands in 2006, Eran has established himself as a leading figure in the Dutch Jazz scene – recording and performing with some of the finest Jazz musicians on the local and international circuits. These include prominent musicians such as Benny Golson, Terell Staford, Jasper Blom, Harmen Fraanje, Susanne Alt, Joris Roelofs, Martijn Van Iterson, The Le Bouef Brothers, and Jamal Thomas, to name a few.
In one of Eran's most exciting current projects, he takes the centre stage leading the 'Eran Har Even Trio', for which he composes and arranges original material. The EP "Laws of gravity", which was released in the summer of 2013, features drummer Jamie Peet, bassist Tobias Nijboer and guests Harmen Fraanje on piani and Itai Weissman on tenor sax and EWI.
For more information check out their homepage: www.eranhareven.com.
Enjoy delicious vegan organic dinner before and join us for an evening full of good music in a cozy atmosphere.
Begin:
20.30 Eran Har Even Trio
21:30 UsedToBeNew
The entrence is free – contribution is more than welcome.